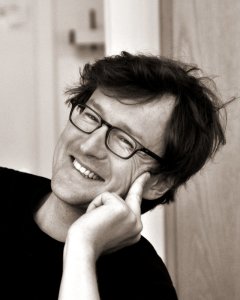 Career:
Since 2018, Associate Professor & McAdams Chair, Department of Physics and Integrative Biology, UC Berkeley
2013-2018, Assistant Professor
2009-2014 Head of the Research Group "Biological physics and evolutionary dynamics" of the Max Planck Society at the MPI-ds Göttingen (Associate Professor Level, 5 yrs)
2005-2008 Post-Doc at Harvard University with Prof. Dr. David R. Nelson and Sharad Ramanathan
2004 Dr. rer. nat. (Physics) Free University Berlin
2001-2004 Doctoral thesis, supervision Prof. Dr. Erwin Frey, at the Hahn-Meitner Institute Berlin
2000 Diploma in Physics, ETH Zürich
1995-2000 Studies of Physics, University of Heidelberg and ETH Zürich
Research topics:
See Research.
Key publications:
[1] O. Hallatschek, D. S. Fisher. Acceleration of evolutionary spread by long-range dispersal. PNAS, 111(46): E4911-E4919, 2014.
[2] E. Martens, Shashi Thutupalli, Antoine Fourrière and O. Hallatschek. Chimera states in mechanical oscillator networks. PNAS, 110(26):10563-10567, 2013.
[3] R. A. Neher and O. Hallatschek. Genealogies in rapidly adapting populations. PNAS, 110(2): 437-442 , 2013.
[4] O. Hallatschek. The noisy edge of traveling waves. PNAS, 108(5):1783, 2011.
[5] O. Hallatschek, P. Hersen, S. Ramanathan, and D. R. Nelson. Genetic drift at expand- ing frontiers promotes gene segregation. PNAS, 104(50):19926–19930, 2007.
A complete list of publications can be found here.